Sharing and creating prosperity in Sunderland
Nine projects in Sunderland have been backed with more than £3.3m of funding from the UK Shared Prosperity Fund (UKSPF) programme.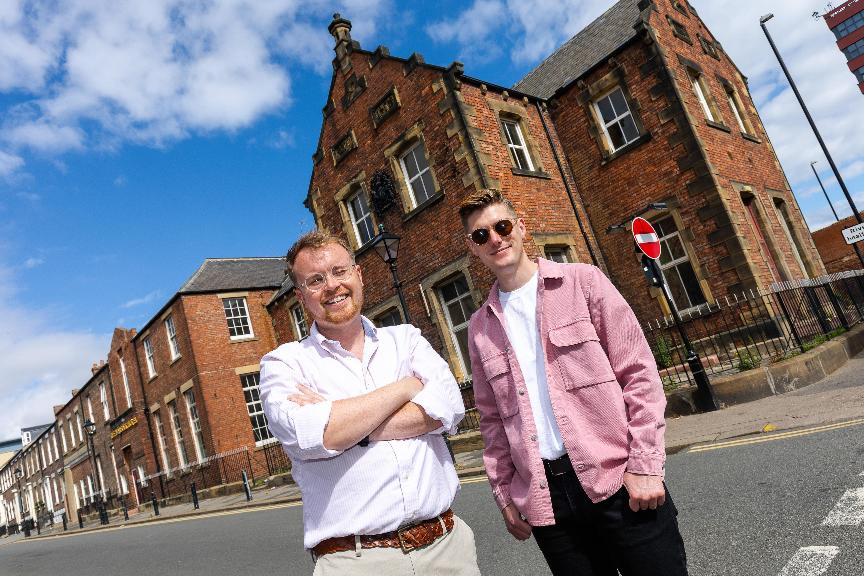 The funding has been allocated as part of the city's 'Communities and Place' priority in the UKSPF which replaces European grants after the UK's exit from the EU.

Over the next two years, Sunderland has a UKSPF allocation of £14m to invest in projects that are aligned to and build on the City Plan for a more dynamic, healthy and vibrant Sunderland.

The first nine projects receiving grants include activities to improve access to and participation in creative and cultural opportunities, to strengthen voluntary and community sector facilities and services, to invest in new creative business spaces, and to create a network of community digital health hubs across the city.

Among the projects receiving funding are a £175,000 grant to help with the refurbishment and re-opening of the historic Norfolk Hotel in Sunniside as a new base for creative and cultural businesses and organisations, support for community facilities at St George's Church in Fatfield, Washington, and cost of living support in West Sunderland.

A new round of UKSPF applications is now open under the 'Supporting Local Business' priority and closes at 23:59 on Friday 21 July (extended from Friday 14 July). It invites organisations and partnerships to work together on developing and delivering business support activities that will boost enterprise, entrepreneurship and innovation, and support enterprises to transition towards a net-zero low carbon economy. More details are here: UK Shared Prosperity Fund (UKSPF) in Sunderland - Sunderland City Council

Leader of Sunderland City Council, Councillor Graeme Miller said: "The UK Shared Prosperity Fund supports our ambitious City Plan for making Sunderland more dynamic, healthy and vibrant, and how we become a more connected, international city with opportunities for all.

"These first allocations will unlock more new jobs and investment in the local economy, providing residents and community groups and businesses with access to a range of new services, opportunities and facilities.
"Hundreds of millions of pounds of private and public sector investment is coming into Sunderland and these projects share and demonstrate our ambitions for a more prosperous and resilient city."
Other priorities for UKSPF investment in Sunderland will focus on activities to support residents who are economically inactive and help them to develop new skills, and access training and employment opportunities.
Ken Bremner, Chair of the Sunderland City Board, said: "It is fantastic news that such a wide variety of projects have been supported following this first round of UKSPF funding. Successful projects have shown how they plan to work collaboratively to achieve the objectives of Sunderland's UKSPF investment plan as well as the longer-term ambitions of the City Plan.
"These projects involve multiple partners and complement the ongoing regeneration of the city, by investing in new community-based provision, social prescribing activities and digital connectivity, and enhancing the creative and cultural offer in the city. The Sunderland City Board looks forward to seeing the projects being delivered over the next two years."

Mark Burns Cassell, Co-Director at Marengo Estates who now owns the former Norfolk Hotel in Sunniside received a £175,000 grant to help with its refurbishment. He has plans to transform the 16,000 square foot former hostel into a flagship venue for independent businesses, especially those in the creative, cultural, entrepreneurial and third sector. The three-phase transformation of the building is a huge undertaking and once complete will boast over 50 offices and creative workspaces, with outdoor engagement areas, a cafe, wellbeing activities and a calendar of arts and cultural events.
Mark Burns Cassell, said: "We are absolutely ecstatic to have received a UKSPF award for capital improvement works to the phase one refurbishment of the former Norfolk Hotel.

"The funding will give us the means to create further enhancements to our accessibility plans across the ground floor and community activity areas, and will facilitate us in being able to create outdoor engagement and garden areas, as well as supporting us to make a number of further improvements to our refurbishment plans. The funding will also directly contribute toward helping us create an inclusive destination venue for cultural engagement and a home for independent and creative businesses to thrive, right in the heart of Sunniside."
The first nine projects to receive grants are:

• Norfolk Hotel, Sunniside - £175,000 towards the redevelopment of the former Norfolk Hotel as a a new base for creative and cultural businesses and organisations.

• St George's Church Community Annexe and Café - £139,907 towards creating and constructing a community annexe and café to serve and support the communities of Harraton, Fatfield, Rickleton and beyond, and the start-up costs of running the café and recruiting a manager.

• Sunniside Animation and Activation - £202,253 towards a programme of activities to encourage more visitors to the Sunniside area, to enhance its reputation and encourage more people to work, live and visit.

• STEF's (Sunderland Training & Education Farm) Community Hub - £110,543 towards delivering an enhanced programme of community events, activities and opportunities, supporting residents and neighbourhoods across the city.

• Cost of Living Support in St Chads, Silksworth and Barnes - £109,349 to employ Community Support Workers to build resilient communities and strengthen social fabric by mitigating the impacts of the cost of living and helping residents in Silksworth, Barnes, St Chads and surrounding areas who experience hardship to access support.

• Sunderland Museum and Park Community Garden - £180,103 towards developing a community garden next to the Museum and Winter Gardens to help create a greater sense of place, pride and ownership, working with the Friends of Mowbray Park.

• Strengthening Communities - £435,786 towards supporting and developing the voluntary and community sector, and encouraging and increasing more people to volunteer.

• Community Digital Health Hub Project - £1,150,979 towards a community partnership project that will enhance digital provision across community hubs in the city, and support social prescribing services and activities to ensure no one and no place within Sunderland is left behind.

• Connecting and Catalysing Our Culture, Creativity and Engagement - £842,346 towards a partnership project promoting culture led regeneration, and growing participation in culture, heritage and other creative activities.