Sunderland Crematorium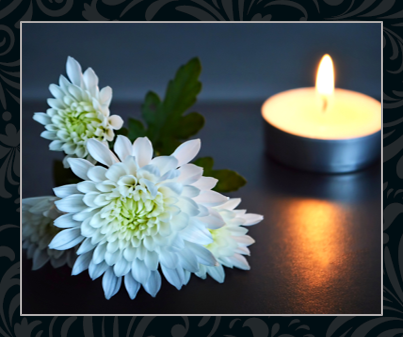 Remembering a loved one this Christmas
Join us on a Sunday in the run up to Christmas and spend some quiet time to remember a loved one.
Our Ceremony Hall will be open for you to light a candle and leave a written personal message in our memory book.
Sunday 3, 10 and 17 December, 12 noon to 3pm.
Sunderland Crematorium is owned and operated by Sunderland City Council.
The Chapel is located within the peaceful setting of Bishopwearmouth Cemetery.
Construction started in 1937, but the project was suspended before the roof was put on when World War II broke out, the building was eventually completed in 1951.

Service times
Services are held Monday to Friday from 9am to 5pm. Services are usually scheduled every 30 minutes, but arrangements can be made for a longer service if required. The order of service is displayed on the screen in the waiting room and also at the entrance to the chapel.
The chapel seats 56 with capacity for 30 standing. A waiting area is available with broadcasted services on request. Public toilets and reception areas are also available.
Facilities in our grounds
We have a number of facilities within our grounds to ensure that all our visitors are comfortable. These include:
Car parking with 2 additional disabled parking bays by the main entrance
Public toilets in the Waiting Room
Hall of Remembrance
Garden of Remembrance
Floral tributes
A single floral tribute may be left on the anniversary of the death of a loved one in the Hall of Remembrance and Garden of Remembrance.
Tributes should be cut flowers only, any plants, balloons, wind chimes, cards, pictures, flags or any similar items will be removed. Floral tributes left within the Hall of Remembrance may be used in the chapel and other areas of the crematorium and during particularly busy periods, may be moved to other areas within the building.
Remembering a loved one
When a loved one has passed away, families may wish to arrange to have a lasting memorial to commemorate and remember them. A memorial can also be used as a place of peace and reflection when families and friends wish to remember a loved one.
We offer a range of memorials that can be installed at the crematorium, a number of our cemeteries or in identified parks and open spaces.
Opening Hours
Address

Chapel

Monday to Thursday

Friday

Saturday to Sunday

Bank holidays

9am to 5pm

9am to 4.30pm

By appointment

Closed

Chester Road

Sunderland

SR4 7RS

Tel: (0191) 520 5553

Hall of Remembrance

Monday to Thursday

Friday and Saturday

Sunday and bank holidays

9am to 5pm

9am to 4pm

12noon to 3pm

Map and directions

Garden of Remembrance
Open at all times