Coachworks relocated for road works
A VEHICLE body repair specialist has relocated as it helps make way for Sunderland's new dual carriageway.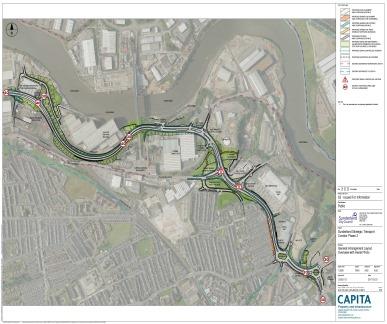 After more than 20 years, Sunderland Coachworks has now moved from Simpson Street, Deptford, to bigger premises at the Shaw Buildings in nearby Deptford Terrace. Annually, the company deals with hundreds of vehicle body repair jobs from scratches to major accident damage and now employs ten staff.

The move was made as part of a relocation agreement with the City Council as construction works on the dual carriageway from the south of the Northern Spire to the city centre are getting closer.

Works on the carriageway - the third phase of the Sunderland Strategic Transport Corridor (SSTC 3) - began earlier this year and Coachworks teamed up with City Council officers for help with relocation logistics.

Company director Tony Applegarth said: "We've now got premises three times bigger than we had before and with more room we have taken on three extra staff. All our staff are agreed that it's much better here and it's been a good move for our business.

"We are genuinely very pleased with the help and assistance the council gave us. We have worked together on this and we do appreciate it. We understand the need for the new route, the construction works, and are now well placed for the new road and for more business."

With more space, the company now has three spray booths and with a higher ceiling it can look to accommodate larger vehicles, including a growing market on motorhome work.

The City Council's Cabinet Member for Environment and Transport, Councillor Amy Wilson said: "It's just over a year since the Northern Spire opened and now we're into the next phase of the transport corridor - the dual carriageway.

"The road does mean change and the council factored in these changes to speak with and help companies deal with these changes.

"It's pleasing that Coachworks and others are working with us and seeing the big picture and the benefits. I'd like to thank Mr Applegarth, his staff, all his customers and wish them all well in their new premises."

The £35m dual carriageway scheme is being delivered for Sunderland City Council by local civil engineering specialists Esh Civils, the civil engineering division of Esh Construction. It is part of an estimated £1.5bn investment in Sunderland between 2015 and 2024, including half-a-billion pounds in the city centre.