Time to talk about speed for Road Safety Week
Sunderland motorists are being urged to think about their speed to keep the city's roads safer for Road Safety Week (19-25 November).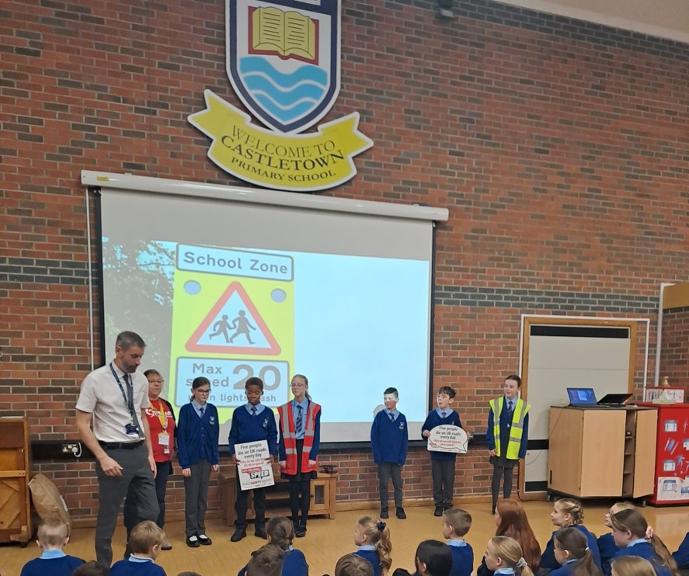 20 November 2023
Organised by road safety charity BRAKE, this year's theme is 'Let's talk about speed', to open up a conversation about why speeding is seen as acceptable in some situations, what happens when we speed, and why reducing speed saves lives.
As part of the week-long campaign, Sunderland City Council's Road Safety team are visiting schools to stress the importance of staying safe on the roads and advising pupils and parents about speed limits on our roads, particularly in close proximity to schools.
The team have already visited Castletown Primary, and will also drop in to schools across the city throughout the week.
Northumbria Police are also carrying out targeted speed enforcement at speed concern sites across the city.
Cllr Kevin Johnston, Sunderland City Council's Cabinet Member for Dynamic City, said: "Road Safety Week is all about drawing attention to issues around road safety and this year we really want to make drivers aware of their speed.
"Every 1mph increase in speed increases crash frequency by 5% so driving even slightly over the speed limit can have a negative impact on the safety of our roads.
"This Road Safety Week we want drivers to really think about their speed and take care on roads across the city, but paying particular attention in the areas around our schools where young children are crossing roads."
In addition to visiting schools during Road Safety Week, Sunderland City Council's officers carry out a year-round programme of road safety awareness education and campaign work.
Find more information on Road Safety Week and find out how you can get involved at Road Safety Week | Brake.