Council welcomes new apprentices
A new cohort of apprentices is taking up roles across Sunderland City Council for 2023.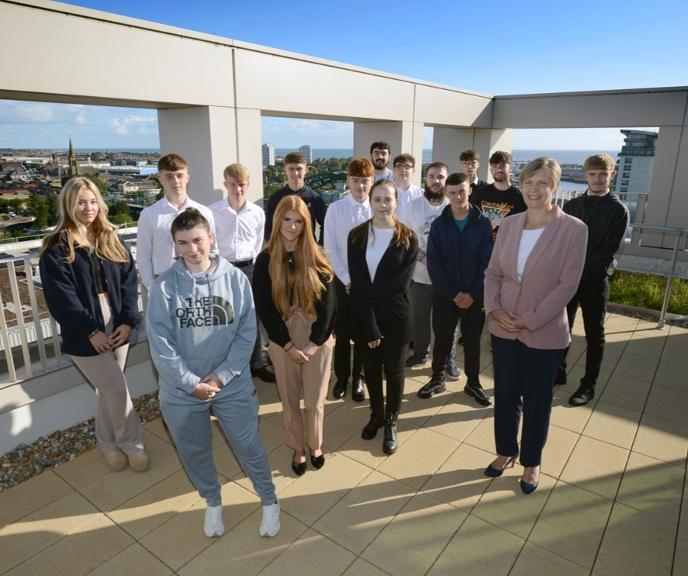 The group is made up of 16 apprentices, who are undertaking roles in everything from civil engineering to cyber security.
The apprentices were officially welcomed to their new roles at Sunderland City council at an event in the Mayor's Parlour at City Hall.
They will be undertaking apprenticeships in civil engineering, vehicle fitting, customer service, paviour, cyber security, painting and decorating, bricklaying and business administration.
At an induction event, Sunderland City Council's Director of Smart Cities and Enabling Services, Liz St Louis, welcomed the new recruits to their roles. She said: "This is such an exciting time to be joining Sunderland City Council; there's so much going on around Sunderland at the moment and these roles are a great chance to be part of the city's development while gaining skills and training.
"I'd like to wish all our new starters the very best with their apprenticeships and hope that this will be the first step in successful careers."
The apprenticeships are being carried out in partnership with a variety of different colleges and training providers and can last anywhere between 16 months and three years.
Jack Armstrong started a Level 2 Horticulture Apprenticeship with the Council's Environmental Services last year. He came along to welcome this year's apprentices and share his experience. He said: "I have really enjoyed the apprenticeship; I have learned so much in the first year and I've been given opportunities I never thought I would get. It does involve a lot of hard work but if you stick in, there's a great opportunity at the end of it."
Leader of Sunderland City Council, Cllr Graeme Miller, said: "Apprentices are a key part of the country's workforce and future, and here in Sunderland apprenticeships have an important role to play as we embark on achieving our ambitious City Plan.
"It's absolutely vital for the future that we continue to invest in apprenticeships, recognise the value and contribution that apprentices can bring to Sunderland City Council and that we offer the support our apprentices need."
Katie Lawson joined the Council as an apprentice in Customer Services last year and has since gone on to secure work in a Customer Service role. She said: "I had just left school in the Summer, and I came to the Council for my first job. The apprenticeship gave me loads of confidence in work to deal with customer queries and also in my personal life. I can't believe how far I have come within a year at starting my apprenticeship, I have received so many opportunities through all the training I have received at work."