Tennis courts reopen to the public after renovation
Sunderland's new and improved tennis courts are officially open to the public after being refurbished to encourage more people to take up the sport and stay active.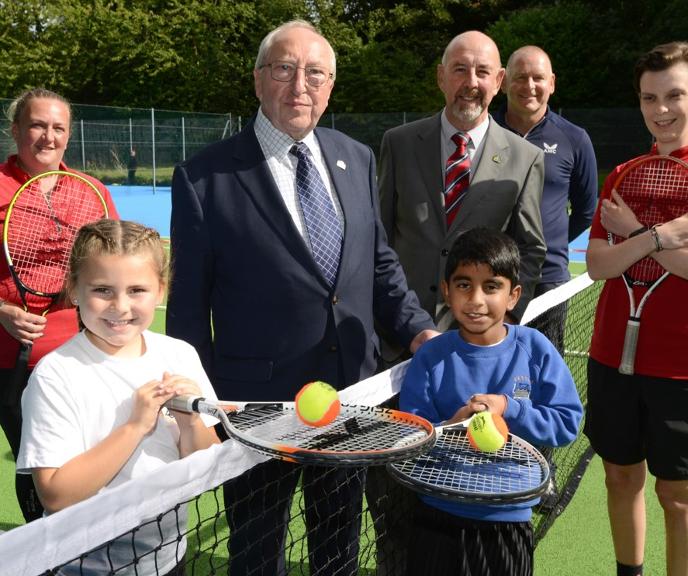 More than £400,000 has been invested into 17 tennis courts across seven of the city's parks.
The courts are now officially open and available to book at:
Barnes Park
Roker Park
Ryhope Park
Usworth Park
Barley Mow Park
Thompson Park
Hetton Park
The improvements, which include new surfacing, new nets, painting, and secure gates, were made possible by Sunderland City Council securing £332,000 funding from the UK Government and LTA Tennis Foundation, with the council also investing £71,000 from its own budget.
The work was carried out following a Let's Talk Tennis consultation where residents were asked what would encourage them to use the tennis courts in the city's parks more often.
The project is part of a nationwide £30million investment by the UK Government and LTA Tennis Foundation, delivered by the LTA, to refurbish thousands of public tennis and open up the sport to many more people.
As part of the investment in Sunderland, 17 tennis courts in poor or unplayable condition have been brought back to life through renovation works and improved court accessibility.
Park tennis courts provide opportunities for children and adults to get active and can deliver significant physical and mental health benefits to participants.
Following the launch, weekly organised free park tennis sessions are planned for people of all ages, playing levels and experience. Free Tennis in Park sessions will also provide opportunities for friendly and sociable tennis on weekends throughout the year.
All courts will be available to book online at https://clubspark.lta.org.uk/SunderlandParksTennis, where you will be asked to register with the LTA. Once you have completed your booking, you will be emailed a gate code to access the courts.
An introductory offer means booking will initially be free, before a small charge is introduced in January for some of the bookable times.
Councillor John Price, Cabinet Member for Vibrant City at Sunderland City Council, said: "The investment into tennis courts in the city's parks came in response to residents telling us what they want to see and what would encourage them to take up tennis, so I am delighted to see them open and ready to be used.
"The revamped tennis courts look fantastic and I hope they will encourage a new generation of players to get into tennis and enjoy all the benefits of playing sport such as improving physical and mental health and bringing people together."
Julie Porter, Chief Operating Officer at the LTA, said: "After months of hard work, we're delighted to see park tennis courts across Sunderland officially back open to the public, and in better shape than ever.
"Public tennis courts are such vital facilities for getting active and we want as many people as possible, of all ages and abilities, to pick up a racket and enjoy playing tennis. Thanks to this investment the sport will be opened up to more players, for years to come."
Ian Bradgate, Everyone Active's Contract Manager, said: "We are delighted to be delivering park tennis in Sunderland going forward. We hope people of all ages and abilities from across the local community will pick up a racquet and take the opportunity to use these refurbished facilities. Tennis is a brilliant way to get active and improve your physical and mental health, as well as having fun."
Stuart Andrew MP, Sports Minister, said: "We are committed to levelling up access to sport which is so important for the nation's physical and mental health.
"The Government and the LTA are working together to deliver thousands of refurbished courts across Great Britain, supported by £30 million of investment including in Hassocks.
"These improved tennis facilities in Sunderland will provide the local community with fun opportunities to get active and potentially become the next Andy Murray or Emma Raducanu."