Going to the polls for the local election
Sunderland is going to the polls for a City Council election.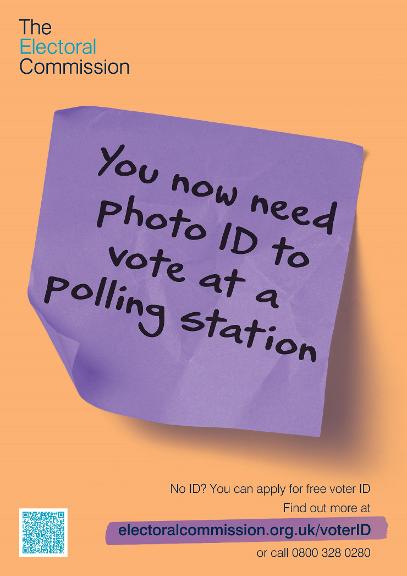 There are also elections to Hetton Town Council for electors living in that parish.

Anyone who has not yet registered to vote for the elections on Thursday 4 May is urged to do so immediately.

This May, for the first time, voters will need to show photo ID at a polling station. This is a new requirement, introduced by the UK Government's Elections Act. To find out which ID you can use in the polling station, visit the Electoral Commission website.
If you do not have one of the accepted types of ID, you can apply for free ID, called a Voter Authority certificate at www.gov.uk/apply-for-photo-id-voter-authority-certificate or by completing and submitting a paper form to Electoral Services, Sunderland City Council, City Hall, Plater Way, Sunderland, SR1 3AA. The deadline to apply is 5pm on Tuesday 25 April, to be able to use the Voter Authority Certificate in May.
Voters must be on the Electoral Register to apply for a certificate and will need to provide a photo, full name, date of birth, the address at which they are registered to vote and their National Insurance number.

The deadline to register to vote is midnight on Monday 17 April. You can apply online at Register to vote - GOV.UK (www.gov.uk). It takes just five minutes. Registered electors can also apply for a postal vote and the deadline to apply is 5pm on Tuesday 18 April. You don't need to provide photo ID to vote by post.

There are currently 207,775 people on the Sunderland Electoral Register and 86,662 electors (41.7 per cent) are registered for a postal vote.

Sunderland Returning Officer, Patrick Melia said: "Elections are always an important opportunity to make your voice heard and have a say on who represents you on the issues that directly affect day-to-day life here in Sunderland.

"If you're not registered to vote by Monday 17 April, you won't be able to vote. It may seem a long time until May but it's worth checking now that you are ready and have everything you need to vote."

Sunderland holds elections by 'thirds' for its 75 councillors. Therefore, one seat of the three in each of the city's 25 wards is up for election and 25 councillors are due to be elected.

If you need help with applying for a Voter Authority Certificate or want to request a paper application form, please call Sunderland Electoral Services on 0191 520 5550 or email elections@sunderland.gov.uk