Hefty fine for failure to co-operate with fly-tipping investigation
A Sunderland resident suspected of fly-tipping has been fined by magistrates after failing to co-operate with a council investigation.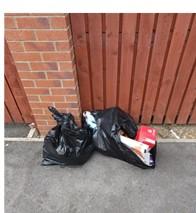 Demi Leigh Parkin of Sherbourne Road was first contacted by Sunderland City Council's Neighbourhood Enforcement Team following a report of fly-tipping in the rear lane of Sherbourne Road in June 2022.
During a search of the dumped waste, made up of black bags of household waste, officers found documents and personal papers linking the waste to Ms Parkin, and a check of council tax records confirmed her address.

When Parkin failed to make contact with the investigating officer, she was served with a notice under section 108 of the Environment Act 1995, requiring her to attend an interview on 21 June 2022.

Parkin failed to attend the interview and was prosecuted for failing to comply with the notice.

She also failed to attend a hearing at South Tyneside Magistrates' Court on Wednesday 1 February, but magistrates found her guilty in her absence.

Parkin was fined £210 and was ordered to pay £535.61 costs and £84 victim surcharge, resulting in a total financial penalty of over £800.
Councillor Claire Rowntree, Deputy Leader of Sunderland City Council and Cabinet Member for Clean, Green City, said: "Residents have told us that they want to see more enforcement action against people who spoil the look and feel our neighbourhoods. I hope this sends a clear message that the city council takes a zero-tolerance approach to fly tipping and that we will take action against those responsible and those who fail to assist us with our enquiries."
Revenue generated from fixed penalty notices, including costs and compensation awarded by the courts, is ploughed back into the service and goes towards the costs of cleaning up litter and fly-tipping, keeping highways clean, and enforcement against littering graffiti and fly-posting.