Ambassadors appointed to help Sunderland residents age well
Sunderland is celebrating the International Day of Older Persons by launching an Ageing Well Ambassadors Programme.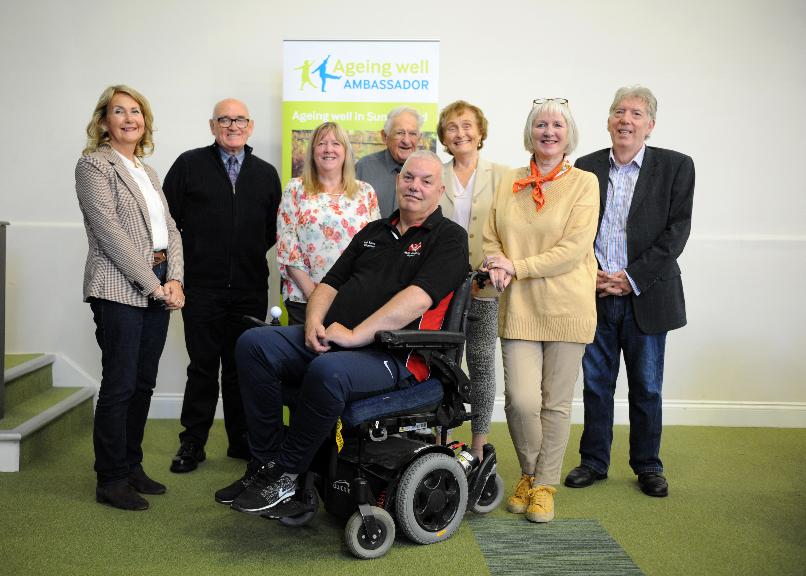 A conference took place this morning (1 October) for Sunderland residents aged 50+, asking the question 'what health or social care breakthrough do you hope to see in your lifetime?'
More than 60 delegates attended the event held at Bede Tower. They heard from guest speakers including Mark Greenfield from Sunderland Older People's Council and saw personal presentations from Sunderland residents about what ageing well means to them.
The attendees heard a talk about how people who are ageing well can play a role in tackling the climate emergency, and attendees took part in interactive workshops about living a healthier and more contented life and how older people can play a role in tackling the climate emergency.
On International Day of Older Persons, Sunderland is committed to highlighting the need to support people as they age, as populations age more rapidly both internationally and here in Sunderland.
Sunderland City Council and city partners are committed to supporting the wellbeing of people who are ageing well and taking steps to ensure they can continue to live happy, independent, and fulfilling lives.
One way they will do this is through Sunderland's Ageing Well Ambassadors Programme. Volunteers aged 50+ are being recruited to help raise awareness and spread the Age Friendly message to others, so that people's voices continue to be heard in communities across Sunderland as they age.
Ambassadors will act as the voice of Sunderland's older residents, informing services and investment in the city to ensure residents of all ages lead fulfilling lives. They may promote Age Friendly Sunderland within their workplace, sports team, place of worship, with family and friends or anywhere in their community.
Councillor Kelly Chequer, Portfolio Holder for Healthy City at Sunderland City Council, said: "While every person in the city should have access to the same opportunities, we recognise that there can be unique needs that come with ageing, so we need to make sure the older residents of Sunderland feel supported. Sunderland's Ageing Well Ambassadors will help us to better communicate with the people who are ageing well so we can ensure our services and neighbourhoods are age friendly.
"I would encourage anyone 50+ who is active in the community to think about signing up to be an ambassador to make sure older people feel valued and connected to their communities. We want to improve community participation and ultimately ensure that nobody is left behind."
Fiona Brown, Executive Director of Neighbourhoods at Sunderland City Council, is the Strategic Lead for Ageing Well and the Chair of the Ageing Well Board. She said: "We have 55,209 People aged 65+ in Sunderland so they are a significant part of our city's population.
"We are excited to be launching the Sunderland Ageing Well Ambassadors programme and have recruited 30 ambassadors to date to ensure older people's voices are heard loud and clear across the city with all partners and service providers."