Crowdfund Sunderland to support more projects thanks to National Lottery funding
Sunderland City Council is delighted to announce it has been awarded £50,000 to support the Crowdfund Sunderland programme.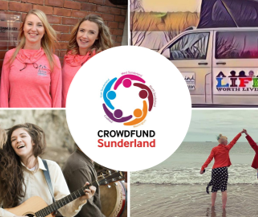 Provided by The National Lottery Community Fund - the largest funder of community activity in the UK - it gives groups crowdfunding the opportunity to pitch for an additional pledge towards local projects, on top of the funding already available from the Council and NHS Sunderland CCG.
The National Lottery Community Fund distributes money raised by National Lottery players, who raise £36 million* each week for good causes throughout the UK. Thanks to National Lottery players last year, it awarded over half a billion pounds (£588.2 million) of life-changing funding to communities across the UK.
Since the start of last year Crowdfund Sunderland, which is coordinated by Sunderland City Council, has been supporting local projects to raise funding to help deliver what their communities want and need. These projects all work to enable delivery of the City Plan, Neighbourhood Investment Plans, improve health and wellbeing, the environment and community resilience. Projects are verified before commencing fundraising to ensure the projects are viable and deliverable. The live crowdfunding campaigns are then assessed by the council and its partners and pledges are placed onto the campaigns alongside pledges from local members of the public.
Previous successful projects have included the renovation of Doxford Park Community Garden, support for Sunderland Foodbanks to provide packages for vulnerable residents throughout the Covid-19 pandemic, and the purchase of a van for Veterans in Crisis to allow veterans and their families to be moved into accommodation and find employment.
Cllr Linda Williams, Portfolio Holder for Vibrant City at Sunderland City Council, said: "The support from The National Lottery Community Fund is fantastic as it will allow individuals and organisations to continue bringing brilliant ideas into our city. If the pandemic has shown us anything, it's the power of communities coming together to achieve amazing things in the face of adversity.
"The projects are all about bringing local people together to build stronger relationships while crowdfunding for something the community wants and not what we think they want. I encourage anyone who has an idea that could make a difference in our city to sign up."
Find out more about Crowdfund Sunderland and how you can start your own project at www.sunderland.gov.uk/crowdfund-sunderland