Tour of Britain is on its way
Drivers and all highways users are being advised of road closures as Sunderland gears up for hosting the Tour of Britain cycle race.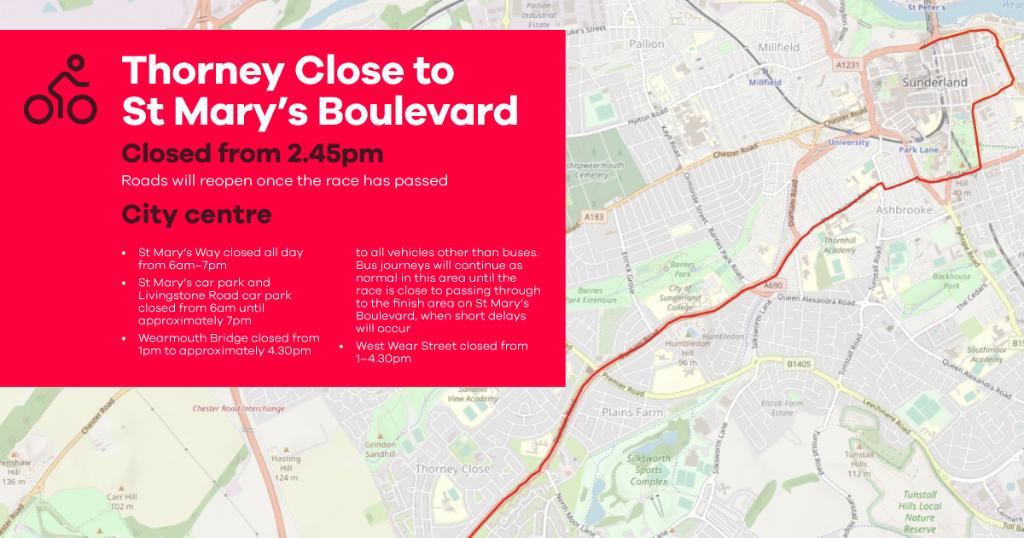 The UK's most prestigious cycling race is bringing world class sporting action on Tuesday 6 September as part of stage three of the Tour of Britain.
A world-class field of around 120 riders from 20 teams are due in the Men's race and expected to include world and national champions with well-known World Tour teams. ITV4 will broadcast live coverage of the Durham to Sunderland stage, which will be shown in over 150 countries worldwide thanks to the event's partnerships with Eurosport and the Global Cycling Network.
The Tour's route through Sunderland will take it through parts of Hetton, Houghton, Philadelphia, New Herrington and Middle Herrington before heading down the A690 Durham Road towards the city centre, past Barnes Park and Mowbray Park, finishing at City Hall at the heart of Riverside Sunderland.
Anyone planning to watch, or travelling around the city that day, is being advised of road closures and how these will impact on how they can get around.
Councillor Graeme Miller, Leader of Sunderland City Council, said: "It promises to be a brilliant day out for residents and visitors alike as well as the perfect opportunity to showcase our wonderful city on national TV.
"It should only take around 10 minutes for the riders and support vehicles to reach the city centre from the A690 Board Inn roundabout, so we are not looking at prolonged closures. However we appreciate there will still be some disruption, particularly in the city centre where of necessity some roads will be closed all day to allow the stage finish to be built."
"We'll be doing our very best to keep any disruption to a minimum. But we want to let people know as far in advance as possible what the impact of the road closures are likely to have so that they can plan accordingly. I'd like to thank people in advance for their understanding, patience and support."
The race will enter Sunderland at Moorsley at approximately 3pm, head towards the A690 Board Inn roundabout and then follow Durham Road until it gets to the city centre finish area on St Mary's Boulevard at approximately 3.30pm.
A temporary road closure will apply on all roads being used for the race route from approximately 2.45pm. Strategic vehicle crossing points will be maintained along the route until the race pack is near. Once the race pack is near a particular section of road, the road will be closed completely until the race has passed. Once it has passed, the road will be reopened.
In the city centre, to allow the stage finish to be built, there will be longer closures in place. This includes:
· St Mary's Way closed all day from 6am - 7pm
· St Mary's car park and Livingstone Road car park closed from 6am until approximately 7pm
· Wearmouth Bridge closed from 1pm to approximately 4.30pm to all vehicles other than buses. Bus journeys will continue as normal in this area until the race is close to passing through to the finish area on St Mary's Boulevard, when short delays will occur.
· West Wear Street closed from 1pm - 4.30pm
For anyone planning to come and watch the riders reach the exciting stage finish, there will be live screens showing the race coming in to Sunderland on Keel Square from 12noon, and spectators can view the race finish from St Mary's Boulevard.
The City Council has written to schools to let them know about the temporary road closures and urging them, particularly those near the route, to come along to cheer the riders on and join in the excitement of the day. To find out more and plan your trip visit: Tour of Britain stage finish - MySunderland