National Lottery funding awarded to get more people active in Sunderland
£481,835 awarded to Sunderland City Council to use football to boost the activity levels of people in local communities.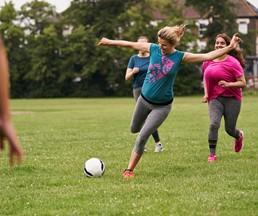 An exciting new programme from Sport England, funded by the National Lottery, and delivered by the Football Foundation will support Sunderland to get more active. Active Through Football is providing Sunderland City Council with the funding to increase participation in football. Active Sunderland partners went through a competitive process to secure the funding which was open to applications from communities who face some of the greatest inequalities to being physically active.
Active Through Football Sunderland will look to work with as many residents from local communities starting with the Southwick ward, to understand what they would like to see in their local community that would encourage and enable them to be more active. Using the power of football and working closely with already established community partners over the next 5 years, the project will target 4 key areas in walking and beginner paced activity, delivery of sessions which support inclusion and positive mental health, women and girls and informal activity for all.
Councillor Graeme Miller, Leader of Sunderland City Council, said: "We're delighted to have secured funding from Sport England through the National Lottery to be part of this exciting programme. People in Sunderland are incredibly passionate about their football and this has the potential to have a huge impact in terms of helping people in Southwick and the wider city to get active while playing one of their favourite sports.
"It also builds on our partnership with the Football Foundation and the success of our three £19m football hubs which we officially opened in 2020 with help from the funding partners The FA, Sport England and The Premier League."

Tim Hollingsworth, CEO of Sport England, said: "There is a reason why football is followed and played by so many the world over. It brings people together and helps build connections in communities. It's also the sport that is played the most in England and has a reach into places where our research shows activity levels are lower.
"Sport England is proud to be one of the funding partners helping to tackle these inequalities and to support more people from a variety of backgrounds to enjoy playing football and all the benefits that brings."
Robert Sullivan, Chief Executive of the Football Foundation, said: "This grant award to Active Sunderland is fantastic news for the local community in Southwick. Football is a game for everyone - regardless of their background - and it's only right that people across all walks of life are able to play the nation's favourite game.
"Over the past 21 years, we have been working with local authorities up and down the country to ensure everyone has access to high quality pitches.
"Thanks to Sport England National Lottery Investment, this new project will help to transform people's lives by developing new opportunities in Southwick, unlocking the many benefits of football for the community."