About us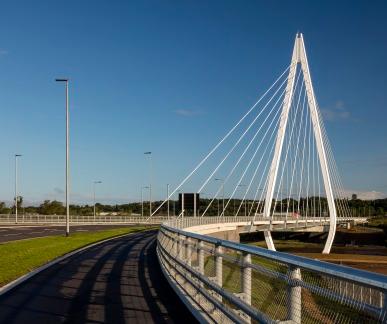 The Northern Spire is a £117.6 million project that brings together specialist partners from the private and public sector from across Europe.
This overall budget includes all design, construction, management and land assembly costs.
The UK Government has contributed £82.5million through the Sunderland and South Tyneside City Deal, with Sunderland City Council investing £35.1million in the project.
Sunderland City Council
The project is led by and has been commissioned by Sunderland City Council. The council has a Project Board and a dedicated Project Director leading a small internal team supported by a range of specialists from across the council and a number of contractors. The Board is responsible for monitoring the progress of the project and ensuring the FVB JV consortium is delivering the work on time and within budget.
FVB JV
In May 2015 the construction contract for the Northern Spire project was awarded to FVB JV, an international joint venture set up by Farrans Construction and Victor Buyck Steel Construction, specifically to bring together the skills and experience required to deliver this project.

The FVB JV team is responsible for all aspects of the construction of the project, including the hire of sub-contractors and partners to support the delivery of the project.
Farrans
Farrans Construction operates as a building and civil engineering contractor across the UK and Ireland.
Victor Buyck
Victor Buyck Steel Construction is one of Europe's major structural steelwork contractors, specialized in steel bridges and low to high rise office and industrial buildings.
Design team
FVB JV will be supported by their design team led by BuroHappoldEngineering and Roughan & O'Donovan.