Well done to all!
A cohort of learners are celebrating their new skills and achievements.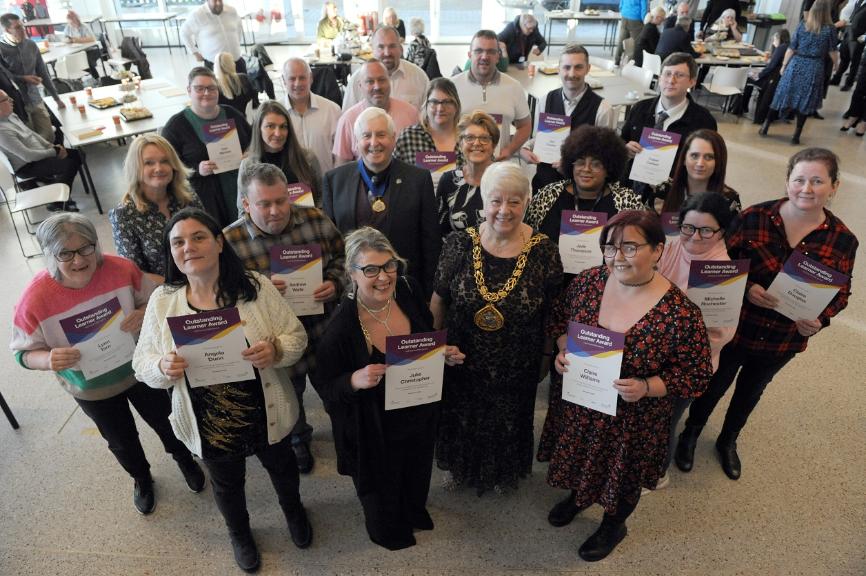 More than 30 people now have awards for their outstanding work on a range of courses, achieving qualifications in everything from preparing for work and digital skills to sewing.
Their achievements were celebrated at City Hall as they received certificates from the Mayor of Sunderland.
Everyone who won an award has taken part in one of the Sunderland Learning and Skills Service's courses. The courses are designed to help Sunderland residents improve their skills and work prospects.
Speaking at the event, Councillor Louise Farthing, the City Council's Cabinet Member for Children, Education and Skills, said: "I'd like to congratulate everyone who has received an award. Everyone who has taken part in these courses has worked hard to achieve their qualifications and I hope they have enjoyed learning something new and can feel proud of their new skills.
"The Sunderland Learning and Skills service aims to empower people through high-quality learning and training to realise their full potential and improve all aspects of their lives, and its brilliant to see the positive impact these courses can have on people's lives."

A wide range of courses are available through the Learning and Skills Service, allowing people to gain more knowledge and skills for personal and professional development.

Claire Williams, who took part in the Uplift course said: "I have soared and it has helped me make changes to improve my life. I have so much more confidence and have no fear when trying new things. The staff at Uplift are angels in disguise I don't want my course to end because they're such a lovely bunch of people."
Courses are available to Sunderland residents who are at least 19 years old and not in employment.
To get started, have a look at the 'Find a course' section'. Here you will find a range of courses designed - and quality assured - to help you acquire the knowledge, skills and behaviours for that next step in realising your full potential.
Find a course at Find a course - Sunderland City Council