Building at Barnes
School improvements are taking shape as part of the City Council's ongoing programme of investments and improvements for young people and families.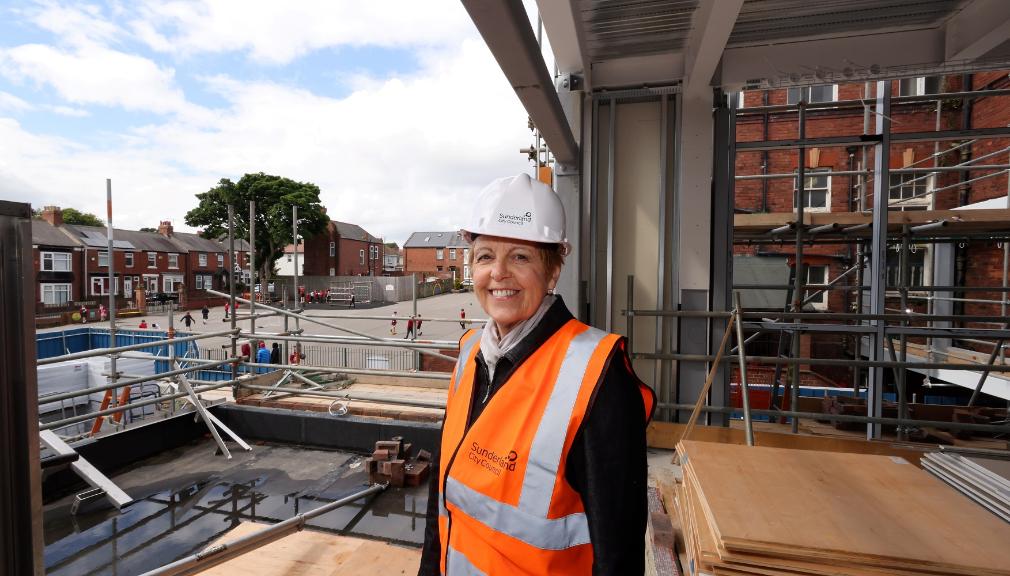 The £5.4m of works at Barnes Junior and Infants School Academy includes new dining and kitchen facilities and teaching rooms.

It is part of the City Council's £45m programme of school updates that's delivering life-changing facilities for young people.

Works at Barnes started at the beginning of 2022 and are being completed by North East based Robertson Construction who are also completing the new build Hetton Primary School.

In Barnes, pupils and staff have now marked their school building improvements by burying two time capsules - one from the juniors and one from the infants.

The sealed steel capsules will be found by future generations and their contents include, as a snapshot of life in 2022, a school uniform and images of the school before the new build. Plus, to reflect the Covid pandemic, a face mask and hand sanitiser.

Sunderland City Council's Cabinet Member for Children, Education and Skills, Councillor Louise Farthing said: "It's been great meeting the pupils, who are all very interested in these new facilities, and I think these choices for what to put into the time capsules are very good.

"This City Council is absolutely determined that we always provide the very best for all our young people and the work here at Barnes, alongside updates at other city schools, is a demonstration of this commitment."

The building is due to open for the next academic year beginning in September. It will include energy saving solar panels, as part of the City Council's moves toward helping Sunderland becoming carbon neutral. Designed by the council's in-house Capital Projects team, with support from Infrastructure and Property Services colleagues, it complements and connects the school's two Grade II listed junior and infants buildings with glazed walkways.

Headteacher Simon Ward said: "Pupils are very engaged with the new building and they have all been fascinated by the construction process and with choosing items for the time capsule. Everyone here is very much looking forward to its completion and opening as an asset for the school and the community of Barnes."

Garry Hope, regional managing director, Robertson Construction North East, said: "Works at Barnes are progressing well and we were delighted to help the pupils to bury the time capsules to mark this significant moment in time.

"We have been working very closely with the school community and welcome their interest in our day-to-day activities. The council's investment in providing first class quality education facilities for the community is testament to the commitment being made to future generations of the city."