Site of gun battery at Roker to be revealed during a community dig
The North East SeaScapes partnership is revealing the stories of our coast by organising an archaeological dig at the site of Roker Gun Battery.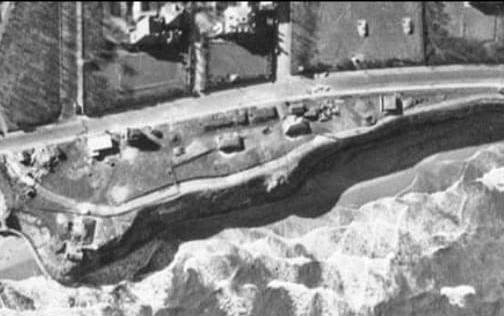 From the 20 June to 1 July, volunteers will be carrying out a community archaeological investigation to better understand how this part of the North East coast helped to defend the nation during times of war and unrest.
Robin Daniels, from Tees Archaeology who are leading the dig, said: "Cliffe Park is now a pleasant, grassed area on the cliffs at Roker. However it was an area used intensively by the military for many centuries in order to protect the approaches to the mouth of the River Wear and Sunderland harbour. Last year, volunteers carried out a geophysical survey which revealed two of the early gun positions and location of buildings. The next step is to bring local people down to the site so we can carry out a dig and find out even more about this important piece of military history."
Karen Daglish, Seascapes Manager, said: "SeaScapes, in partnership with Tees Archaeology and Sunderland City Council, are digging deeper into the significant role that the North-East coast played in strategic UK sea defences during war time. The story of the gun batteries at Roker is an important part of this and deserves to be told. However this couldn't happen without the contributions of others, so thanks must go to National Lottery players as the SeaScapes team is able to run projects and activities to connect communities with the coast through funding from the National Lottery Heritage Fund."
People with an interest in Roker Battery and historical military defence systems along the coast are encouraged to go along to the dig and speak with the team. Experts will be on hand at a community open day on Saturday 25 June to show any artefacts that have been found, and walk people around the site where they can have a go at archaeology using tools provided.
Councillor Linda Williams, Sunderland City Council's Cabinet Member for Vibrant City, said: "SeaScapes is a fantastic project for Sunderland and the wider region that will help raise the profile and improve access to our unique and stunning coastline. It's great to see local residents are keen to be actively involved in the Roker Battery project. I'm sure the open day will attract even more interest in this fascinating site and be an event that inspires the wider community to delve deeper into Sunderland's military history and ensure this important part of our heritage is passed on to future generations.
The SeaScapes project will also support the council's on-going regeneration of the seafront at Roker and Seaburn as well as enhance the city's wider cultural and heritage offer and its attractiveness as a great place to visit and spend time for years to come."
The SeaScapes project is led by Durham County Council and consists of a consortium of partners united in their collective mission to influence support and increase protection of our sea and coastline.
Its focus and main geographical area of work is the England Coast Path running along the Tyne to Tees shore, covering an area up to six nautical miles out to sea. Characterised by unique magnesium limestone geology 250 million years in the making, and from industry to war, pre-history to the modern day, the heritage of this dynamic seascape is born from the sea.
To find out more about the dig please contact SeaScapes on info@exploreseascapes.co.uk. To find out more about SeaScapes, visit www.exploreseascapes.co.uk