Sunderland one of two places to test new tech for healthier homes
Sunderland will be a trailblazing testbed for new technology that could help tackle the city's housing and health challenges.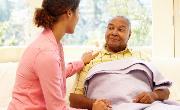 Sunderland City Council has successfully secured its place on a national pilot programme, that will explore how technology can be used to deliver healthier homes in the city. The council will explore ways of using technology to monitor issues such as cold or damp in the city's houses, conditions that often go on to cause health problems, particularly in older people.
Sunderland is one of just two places to have been selected to explore technology solutions in partnership with Homes for Healthy Ageing, a programme launched by Connected Places Catapult to build a healthier future for the UK. The programme will draw on world-leading academic and industry research to match solutions from health-tech and care innovators with the insights and then the needs of local authorities and housing associations.
The programme will support five projects in all, with Sunderland having been chosen alongside a consortium in Northern Ireland to kick off the trial. £50,000 will be provided to support the city to explore a solution to the problem and to implement a testbed to understand how successfully the issue can be tackled. A further £400,000 will be released to roll out a wider trial across all five locations, something that should allow Sunderland to explore the role of technology in tackling the issue in the homes of the city's most vulnerable residents.
The council submitted the bid in June and was notified in July that it had been successful. The programme fits with the city's agenda around health and housing, having been named Smart City 2020 for its innovative work including using technology to enhance the lives of residents in the city. The council also embarked on a £59m programme last year, to drive up the standard of homes in the city through its Housing Delivery and Investment Plan (HDIP), which will bring 362 empty properties back into use, as well as delivering 117 new build bungalows and creating 95 new supported accommodation properties.
Councillor Kevin Johnston, dynamic city cabinet member, said: "We are proud to have been chosen to be part of this opportunity, against very worthy competition.
"Our focus is on making Sunderland a city where every person can live well, and independently for as long as possible, with support that empowers them to lead a fulfilled life, and we are determined to achieve this through our work with Homes for Healthy Ageing and partners on this exciting programme.
"The Homes for Healthy Ageing Programme and Sunderland City Council have a shared belief that technology has the power to transform lives and that's why we're delighted to be chosen as a city to host the programme and, together, explore new ways we can improve health outcomes for residents in their own homes."
The council will work in partnership with a range of city partners, including Sunderland Clinical Commissioning Group (CCG), the University of Sunderland, Sunderland Care and Support and Gentoo to shape the programme. It is expected that the council will act as a testbed, before selecting a partner to roll out the plans and testing the technology in spring next year.