Construction begins on City Hall
Construction is underway on Sunderland's new City Hall.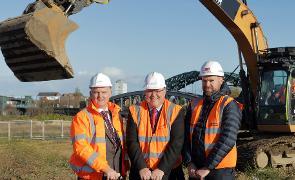 The impressive new building will house Sunderland City Council alongside a range of public sector partners including housing provider Gentoo and the Department for Work and Pensions in a more cost effective base at the heart of the city centre, allowing for the smoother delivery of services to customers.

It will also spearhead the £500m regeneration of the city centre by accelerating the transformation of the city's former Vaux brewery site and acting as a catalyst for attracting private investment, more details of which are due to be announced in the next few days.

The City Hall development is a key element of the city centre regeneration which will see a transformed city centre acting as an key economic driver, creating jobs and opportunities for local people. It is also part of the city helping deliver on its undoubted potential as part of a wider £1.5bn programme of investment across Sunderland.

Bowmer + Kirkland, which has its North East regional office at Rainton Bridge/in the city, won the contract to build the new City Hall last month after fending off competition from other bidders. The project is due for completion in Autumn 2021.

The contract will create a number of benefits for local residents and companies as part of the council's commitment to its community wealth building programme. This includes full time and apprenticeship opportunities for local residents and a £29m spend in local supply chains and £9m with local SMEs.

Designed by award winning architects Faulkner Brown, the building will span 190,000 sq ft - the size of two and half football pitches - more than twice the size of THE BEAM, the first building to be constructed on the former Vaux site.

Council Leader Councillor Graeme Miller, said: "City Hall is a real game changer for the regeneration of Sunderland city centre and I'm delighted to see it going ahead.

"Its development is an essential element of our £500m transformation plans to create a dynamic, healthy and vibrant city centre and deliver the step change that we know our residents want to see.

"It's also a further indication of the real sense of momentum building in Sunderland, with so many new developments either planned or underway and a renewed sense of confidence in the city."

Paul Anderson, Project Manager for Bowmer + Kirkland added: "We have been looking forward to working with Sunderland City Council on this project and it is really good to now be on site, getting the project underway and continuing the regeneration of this area of the city centre."

When complete, the building is expected to be used by up to 7,000 customers a week allowing the seamless delivery of services to residents from birth right through to later life by housing a wide range of council and other public services under one roof.

City Hall is the second building to be built on the former Vaux brewery site following completion of THE BEAM in June this year which will soon be home to Ocado, the world's largest dedicated online grocer which is bringing 300 jobs to the city, alongside health and safety training provider Penshaw View.

Among other exciting new city centre developments are a 120-room Holiday Inn hotel on Keel Square; a 450-seater auditorium under construction in the city's Minster Quarter; a new business centre in the former River Wear Commissioners Building, as well as the STACK development plan and a pub with rooms from the Inn Collection Group in Seaburn.