Remembering Srebrenica
Sunderland City Council has joined communities across the world in the annual, international commemoration of the Srebrenica Genocide.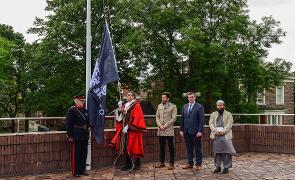 This year is the 24th anniversary of the Srebrenica Genocide which was the worst atrocity on European soil since the Second World War.

During the bitter struggle for control of Bosnia following the break-up of the former wider state of Yugoslavia, 8,372 predominantly Bosnian Muslim men and boys were murdered by the opposing factions which included Bosnian Serbs and Croats.

The theme for this year's UK commemoration 'Remember Srebrenica' is 'Bridging the Divide - Confronting Hate' as a call for reconciliation between these, and other religious and ethnic communities across the world.
The Mayor of Sunderland, Councillor David Snowdon, Deputy Leader of Sunderland City Council, Cllr Michael Mordey and Deputy Mayor of Sunderland, Cllr Harry Trueman, welcomed guests including the Deputy Lieutenant of Tyne and Wear Dr Norman Taylor MBE into the council chamber at Sunderland Civic Centre.

They were joined by the Civic Head for Northumberland, the Mayors of Gateshead and Hartlepool, representatives from faith groups and members of the public.

A welcome speech from the Mayor was followed by a presentation from a representative of the region's Bosnian community, Smajo Beso, and the screening of a short video about the events in Srebrenica and his family's experiences during the war being forcibly forced from their homes and becoming refugees in their own country.

Imam Abu Shuheb from the Islamic Scholars Union also shared prayers, after which there was a minute's silence in honour of the victims of Srebrenica.

The Mayor then invited everyone to join him outside in the civic courtyard for the ceremonial raising of the UK 'Remembering Srebrenica' flag being flown across the country to remember all those who lost their lives.
The Mayor, Cllr Snowdon said: "Today, as we remember and honour the victims and survivors of Srebrenica, let us make a pledge to ourselves that saying 'never again' means acknowledging that we always have choices to make.

"We are all responsible for finding out what we have in common with others, seeking out that which brings our communities together.

"Those who have sought to divide us thus far have not succeeded because of the resolve and determination of communities, who regardless of their differences, come together to build bridges and confront hate."
The Mayor added: "This year's theme of 'Bridging the Divide - Confronting Hate' is a call for communities to work together toward reconciliation, and overcome whatever divides them in mutual understanding, respect and shared humanity.
" We all need to remember what happened at Srebrenica, and in all other atrocities, to help bring people of all faiths together in the name of humanity.
"Commemorative events here and across the world are part of the continual process of building a cohesive society to reduce the danger of such things happening again."

Smajo Beso, 34, now a Lecturer in Architecture at Newcastle University said: "One of the main reasons I do this as part of the charity, sharing my distressing personal memories with other people, is to show what can happen when a previously integrated communities turn against each other."

Imam Abu Shubeb added: "It is very encouraging that Sunderland City Council hosted this event, which serves as an important reminder for all of us that we need to remember the past to help avert such terrible events happening again in the future."

As part of the commemoration Penshaw Monument will also be lit up in green and white in honour of all those who lost their lives 24 years ago