Working to keep our city clean
Plans to make our city centre a cleaner, more attractive place are underway.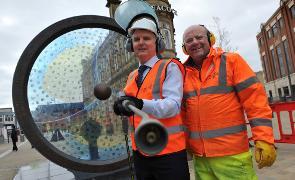 That's the message from Sunderland City Council Chief Executive Patrick Melia as a major deep clean of the city centre nears the end of its second week.

Mr Melia was speaking after paying a visit to front line workers involved in the clean up to see the progress being made.

Paying tribute to everyone who has taken part so far, he said: "The volunteers and our environmental services teams have done a brilliant job. It's amazing how much of a difference they've made in Park Lane and the streets around it. I've never seen it looking so clean and litter free but we need everyone to do their bit to help keep it looking that way.

"The vast majority of our residents are very responsible about disposing of their litter but there are always an irresponsible few who spoil it for everyone else and we need to work together to show that this just isn't acceptable.

"That means taking pride in the area, using the litter bins provided rather than dropping litter on the ground and not dropping things like cigarette butts or chewing gum which are bad for the environment and difficult to remove. We can and we will fine people if they continue to litter our streets."

The council has invested an additional £460,000 into frontline environmental services as part of its commitment to creating a greener, cleaner city.

This is helping fund more environmental officers on the ground, specialist cleansing equipment to tackle persistent issues like chewing gum and more enforcement activity to tackle litter and waste storage issues.

In the first week alone, the deep clean has already seen:
- Almost 70 volunteers from businesses across the city including Liebherr Construction, Stagecoach Bus, Sunderland College, the council, Wilko and Sunderland Business Group taking part in the clean-up
- 16 people fined £150 each for dropping cigarette butts
- 1 person fined £150 for dropping a food wrapper
- 920 square metres of pavements in the Park Lane, Olive Street and Derwent Street area scrubbed and hot washed to tackle staining, gum build up and graffiti
- Stickers and flyposting removing from lamp posts
- Grime hot washed off city bins, seats and traffic signs in Park Lane to remove unpleasant smells and grime
- Hundreds of cigarette butts and half a tonne of litter removed from bins, pavements and shrubbery
Mr Melia, said: "We have major plans to improve our city centre, with half a billion pounds of private and public sector funding set to be invested in its transformation by 2030. But we have to get the basics right first. Our residents have told us that they want to see a cleaner city centre and this deep clean is in response to that.

"We all want a city centre we can be proud of and we need to recognise that we each have a role to play in making our city centre a clean and attractive place to visit. Dirty, litter strewn streets can have a real impact on people's general sense of wellbeing, not to mention leaving a lasting bad impression on visitors.

Commenting on the wider proposals for the city centre, he added: "Key to those plans is the continued regeneration of the Vaux site, with the new City Hall acting as a catalyst for attracting private investment. We also want more people living and working in the city centre, and more and better homes in the city centre on the Vaux site and eventually on the current civic centre site.

"But we're also looking to improve access to the city centre with a new railway station on the current site, a new footbridge across the river, and improved road links.

"We want more people spending more time in our city centre so we're looking at a stronger food and drink offer along with more events in the city centre, more activity based businesses and more to see and do.

"Looking after our city centre and making sure it is looking its best is an important part of these plans."

As part of the partnership behind the clean-up, Sunderland Business Improvement District (BID), is also notifying city centre businesses about visits from environmental services officers to talk about how they and the council can work together to make Sunderland city centre a clean and attractive place to visit. If any business want advice they can get in touch with Katie Kelly or Emily Fox on 561 4549.

The deep clean is set to continue throughout the summer with teams moving on to the streets around Market Square, Fawcett Street, Sunniside, High Street West and Crowtree Road in the coming weeks and months.