Sunderland teenagers take to the airwaves with sexual health advert
A radio advert designed by Sunderland schoolchildren to help their peers understand messages around sexual health takes to the airwaves in the city this week.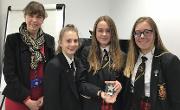 Southmoor Academy students Emily Shord, Millie Nicol and Amelia Woodford will hear their voices hit the radio, after winning a competition that saw schools across the city challenge their students to come up with an advert to educate young people.

The talented teenagers fended off competition from other Sunderland schools to win with an advert which speaks to young people who might be feeling pressurised into having sex and provides a checklist for them to think about before entering into a sexual relationship. The advert also reminds people in the city about the free sexual health advice and condom service, C-Card.

The competition, which was organised by Sunderland City Council, saw the students receive a masterclass in radio production from local radio station Sun FM, which is now running the 30 second advert on-air.

Emily Shord, one of the students from the winning team, said: "We wanted to take part in the competition to help other young people in the city understand that they shouldn't feel pressurised into having sex and if they are thinking about doing it, they should make sure they do it safely.
"We did a lot of research and took inspiration for the advert from things which we had seen on you tube and we also interviewed friends and families to get their opinions."
The winning entry was one of five shortlisted who were invited to present their advert to a panel of people, including council officers, a representative from the school nursing service and media professionals. Other teams in the final were from Hetton School and Biddick Academy.
Gillian Gibson, Director of Public Health at Sunderland City Council, who was one of the judges, said: "We were all really impressed by the standard of the competition entries and it was very difficult choosing between them.
"We asked young people to help us get the message out to their peers that most young people under 16 are not sexually active and it's ok to delay sex until it's a positive decision for them.
"We also wanted the advert to remind young people about the C-Card service, which provides confidential sexual health advice and, if appropriate, free condoms so that when young people are ready to have sex, they do so safely using a reliable method of contraception that protects them from sexually transmitted infections as well as an unwanted pregnancy.
"The advert from Southmoor managed to achieve all of this and I am grateful to all of the young people who have put so much time and effort into their competition entries to help us get the message out - we certainly couldn't do it as successfully without their help!"

Cllr John Kelly is Portfolio Holder for Public Health, Wellness and Culture in Sunderland, he added: "We do a lot of work with schools and partners to help young people understand messages around sexual health and raise awareness of the C-Card scheme but having young people pass those messages to their peers is so much more powerful.
"I would also like to pass on my thanks to all of the students and teachers who took the time to enter this competition."
For more information about the C Card scheme and sexual health services in the city see www.ccardsunderland.co.uk