Hylton Castle time capsule
The Mayor of Sunderland, Councillor Doris MacKnight, presented a time capsule from the local Castle View Enterprise Academy, Hylton Castle Primary, Castletown Primary and Northern Saints Church of England Primary to contractors William Birch & Sons Ltd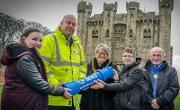 SCHOOLCHILDREN ARE HELPING TO PRESERVE TIME for future generations as part of a community led cultural heritage project.

14th Century Hylton Castle is being restored and returned to community life, as part of a £4.5 million restoration project supported by Sunderland City Council and the Heritage Lottery Fund.

To help mark the beginning of the next phase to create a 21st century education and visitor centre in the remaining gatehouse and grounds, a time capsule has been presented to the contractors to bury in the site as structural work begins.

Pupils from the local Castle View Enterprise Academy, Hylton Castle Primary, Castletown Primary and Northern Saints Church of England Primary have been creating digital content for the capsule.

It's filled with images, films and photographs containing their highlights of 2017 and their aspirations for the future of the castle and surrounding local community.

Schoolchildren handed over their time capsule to the Mayor of Sunderland, Councillor Doris MacKnight, which she can then officially present on behalf of the city to the contactors William Birch & Sons Ltd to add to the fabric of the building.

The Mayor, who is also a local ward councillor and member of the Friends of Hylton Castle and Dene voluntary group who have campaigned for more than 20 years for the restoration, Cllr MacKnight said: "This was a very special day for all of us, not just the Friends Groups but everyone who has grown up in this area with the castle as one of the best known historic landmarks.

"Everyone has a memory to share, and everyone hopefully shares our vision of returning the castle and grounds to the centre of community life as a visitor and education centre for future generations to enjoy.

"Hylton Castle has a very special place in this city and this region's cultural heritage, and this community led project will help bring it back to life."

Invited guests to the celebratory event included representatives from the Heritage Lottery Fund, English Heritage, Sunderland City Council, the Friends of Hylton Castle and Dene, and members of local community and heritage groups from across the city
Head of Projects and Performance at English Heritage, Simon Bean added: "It is a privilege to care for Hylton Castle, and we are delighted to hear about the Time Capsule.

"Our ethos is to bring history alive and it is fantastic to know that the legacy of these children and their community will be told in a meaningful way to future generations.

"We are very pleased that work is to commence at Hylton Castle and its longevity will be assured as one of the country's most impressive gatehouse towers."

During the presentation of the time capsule ceremony, schoolchildren had the chance to meet local author Alan Parkinson and listen to his version of the local folktale 'The Cauld Lad of Hylton Castle' while the Mayor also cut a celebratory cake for all those present to share and enjoy..
The children also made their own 'medieval tiles' similar to those that would have been inside the castle when it was first built.