Burdon Road junction improvements proposal
Plans to update a busy city junction have been announced by Sunderland City Council.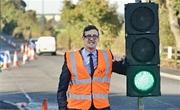 Householders and businesses near the Burdon and Park roads junction on the south of the city centre are now being consulted about the proposals.

The plans include more hi-tech signalling for cyclists and pedestrians, plus traffic island and safety improvements.

Councillor Michael Mordey, the City Council's Portfolio Holder for City Services, said: "This council is committed to investing, updating and refreshing our city's highways network.

"These plans are about making the junction safer and more convenient for cyclists and pedestrians, and new kerbside detection equipment would only stop traffic when the crossing is in use."

On weekdays, between 7am and 7pm up to 13,500 vehicles pass through the junction. Signalling was first introduced at the site more than 40 years ago and it was last updated in 2000.

Cllr Mordey added: "Improvements here would smooth traffic flows and provide a safer environment for all users whether they are in vehicles, on motorcycles or cycles, or pedestrians who are crossing the junction. Tell the council what you think."

Funding has come from the Tyne and Wear Local Transport Plan grant and a North East Combined Authority (NECA) grant. The £800,000 NECA grant has also contributed to other recent city centre junction improvements.

Subject to the consultation, works could start in the New Year.
For more detail on the proposed changes, and how to have your say go to: https://www.sunderland.gov.uk/Burdon-Road