Sunderland Remembrance 2020 online
In light of the ongoing Covid pandemic and national and local government restrictions, the City Council is not going ahead with the annual city centre Remembrance Service and Parade.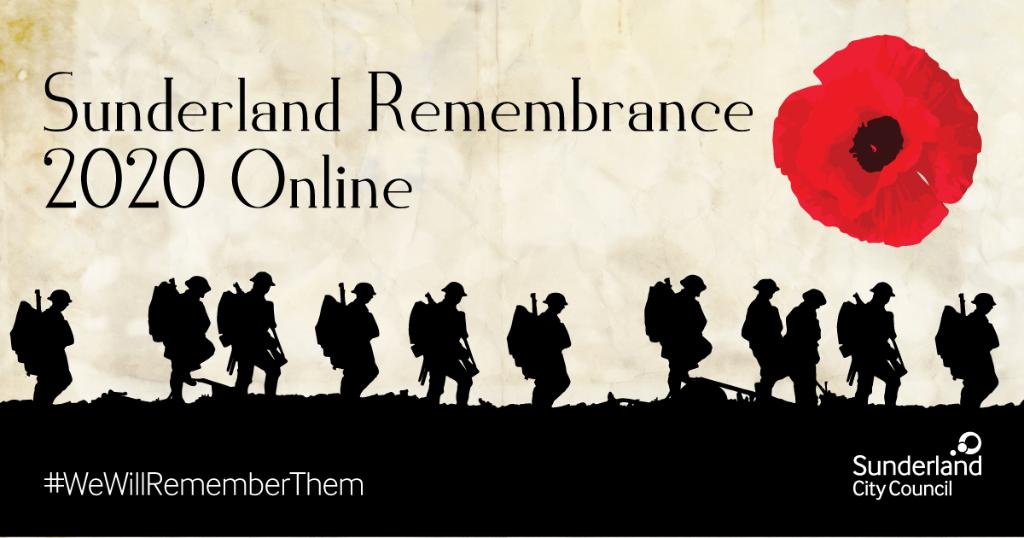 Instead there will be an online service on Sunday, November 8, to allow residents to pay their respects and commemorate Remembrance Sunday.

The Royal British Legion is also encouraging people across the UK to ensure Remembrance Sunday is still marked appropriately by taking part in remote and socially distanced Remembrance activity, whether that be watching the service online or pausing for the Two Minute Silence in their home or on their doorsteps.

Council Leader, Councillor Graeme Miller, said: "Remembrance Sunday has always been an important opportunity for the whole city to come together to pay tribute to all those who fought in conflicts past and present. But this year because of the pandemic and the need to keep everyone safe, we are asking people to mark it in a very different way.

"As well as the online service we have created a series of befitting online films with Lonely Tower Film and Media with featuring residents, community leaders, and those connected with our armed forces talking about what Remembrance means to them.

"These include interviews with some of our inspiring veterans who make each Remembrance Day in Sunderland so special and the story behind the Brothers in Arms memorial wall.

"We're also very proud to have a film dedicated to centenarian and British Empire Medal award holder Len Gibson, who spent four years in a prisoner of war camp, reflecting on his experiences.

"These are just some of the stories that will be shown so it really is a fascinating glimpse behind the Remembrance commemorations we are all more familiar with."

4th Regiment Royal Artillery, who lead Sunderland's Remembrance Parade have also taken part in the short films and the online Remembrance service.

The Commanding Officer of 4th Regiment Royal Artillery, Lt Col (Lieutenant Colonel) Hakes RA, said: "4th Regiment RA are obviously very disappointed to not be part of the Remembrance commemorations in Sunderland this year, however the safety of our veterans, the public and serving military representatives has to be priority at this crucial time.

"We fully understand and support the decision of Sunderland City Council not to host the annual service and parade and look forward to being back in our affiliated city in 2021 and providing support wherever we can across the year, once it is safe to do so."

The National Trust owned Penshaw Monument, and Sunderland City Council's Northern Spire bridge, Fulwell Mill, the White lighthouse at Seaburn, Keel Square and High Street West, are also being lit red from Remembrance Sunday, 8 November until Armistice Day on 11 November. The Beacon will also be lit red from Monday 9 to Wednesday 11 November.

People are also being encouraged to download Sunderland's First World War Heritage Walk which connects key locations in the city with a historical significance to the city during WW1. The walk is available to download free via the Viewranger app and under route search, look for "Sunderland First World War". A free PDF to accompany the walk route is also available and can be downloaded from this link

https://www.sunderland.gov.uk/article/12582/Heritage-trails-

Details of the online service will be available soon.