Sunderland schoolchildren's artwork chosen to be part of national exhibition for Holocaust Memorial Day
A memorial flame artwork made by Sunderland schoolchildren has been chosen to be part of a national art exhibition commemorating the 75th anniversary of the liberation of Auschwitz-Birkenau.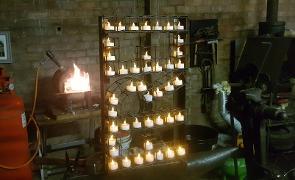 The artwork is one of 75 memorial flames chosen to represent each years since the liberation of Auschwitz. These will be displayed in an exhibition set to be unveiled at the UK Ceremony for Holocaust Memorial Day in London on 27 January.

It was made by children from Bexhill Academy, Lambton Primary School, Grangetown Primary and St Leonard's Primary Schools, working with local blacksmith Darren Witty from Norfolk Street Forge.

This takes the form of 75 coal-forged steel candle holders housed in a hollow steel frame spelling out the word 'FREI' - one of the words from the motto above the main gate at Auschwitz.

The project has been commissioned and developed by Sunderland Libraries Services working with MBC Arts Wellbeing.

More than 300 groups from across the country registered to take part in the nationwide competition launched by the Holocaust Memorial Day Trust (HMDT) to encourage more people to remember the six million Jews murdered during the Holocaust.

The panellists judging the competition were: Sarah Donaldson, arts editor at the Observer; Nick Sharratt, renowned illustrator and author; Kathleen Soriano, Chair of the Liverpool Biennial, and judge on SkyArts Artist of the Year; Anita Peleg, HMDT Trustee and daughter of Naomi Blake, a sculptor and Holocaust survivor; and Olivia Marks-Woldman, Chief Executive of the Holocaust Memorial Day Trust.

Speaking about the theme for HMD commemorations in 2020, 'Stand Together', Fiona Brown, Executive Director of Neighbourhoods, at Sunderland City Council, said: "It's fantastic that an artwork made by Sunderland schoolchildren has been chosen to be part of such an important national commemoration.

"This artwork responds at a number of levels with the wider themes associated with Holocaust Memorial Day. The 75 individual flames burning bright inside the frame of the word FREI, are a testament to the strength, power of will and collective strength and memory of all those who experienced the horrors of the Holocaust first hand - both whose survived and the millions who did not."

Chief Executive of the Holocaust Memorial Day Trust, Olivia Marks-Woldman, said: "It is hugely encouraging to have received so many submissions to this project and from so many different types of groups. The project has truly been nationwide and at a time when we know identity-based hostility is increasing, it is heartening to see so many groups and communities come together and pay tribute to victims of the Holocaust in this way. Holocaust Memorial Day is an important opportunity for us all to learn from genocide, for a better future, and I'd urge everyone to get involved in activities for Holocaust Memorial Day 2020 by visiting hmd.org.uk."

The '75 Memorial Flames' competition was launched with the creation of a sculpture by artist and survivor of the Holocaust, Maurice Blik, who was liberated from Bergen-Belsen concentration camp as a child. The project is part of a wider programme of events devised by the Holocaust Memorial Day Trust to enable people to take part in Holocaust Memorial Day (HMD) and learn from the horrors of genocide.
Details of further activities to mark the Holocaust Memorial Day 2020 will be released nearer the time.