Seafront and St Peter's schemes highly commended in national awards
Sunderland City Council's in-house Landscape Design team has been highly commended in a prestigious national awards scheme.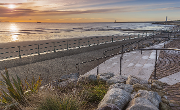 The team was praised in the Landscape Institute awards for its work on Sunderland's seafront and St Peter's Church, Monkwearmouth.

This latest accolade comes just months after the landscape design team won the Northern Design Awards Commercial Landscape category for a fourth consecutive year.

Saint Peter's Church was highly commended in the Heritage and Conservation category of the awards while Sunderland Seafront was highly commended in the Adding Value Through Landscape category.

Improvements to the seafront have seen traditional seafront promenades transformed into naturalistic coastal gardens with more than 150 species of plants, attractive seating areas and decorative wrought iron railings which twist and swirl, framing the beautiful beaches beyond.

At St Peter's, which dates back to the founding of a monastery on the banks of the river in 674 by Benedict Biscop, new landscaping has helped visitors visualise how the monastery might have looked at the time of the Venerable Bede.

Improvements have included informal seating positioned within the Monastery footprint, new footpaths and resurfacing of existing footpaths, a new main gateway, new parking areas, dramatic feature lighting and improved signage. There are also new links to the riverside, semi-mature trees and shrubs and wildflower areas.

Cabinet Secretary Councillor Mel Speding, said: "I'm delighted to see the landscape design team highly commended in these awards. We're immensely proud of them and the work they do. You only have to compare how the seafront looks today to how it looked 10 years ago to see the impact of their work and what a transformation its achieved.

Ten years ago the seafront was one of the areas of the city residents most wanted to see improved. Now it's a jewel in its crown, attracting people in their hundreds and thousands every year - to events like the Sunderland Airshow and Illuminations or simply to enjoy a day out at the seaside.

"The transformation of the landscape around St Peter's is no less dramatic. It used to be really hard to imagine just what the monastery might have looked like in its heyday in the and where it was located on the site. But the work of the landscape team has made it so much easier to visualise how it would have looked in 674 AD and how much of the site it took up. It's also helped increase public awareness of the historical importance of the site."

Seen as the Oscars of the industry, the Landscape Institute awards are presented to landscape professionals to encourage excellence and in recognition of their outstanding work. They shine a spotlight on the work done by landscape professionals including landscape architects, designers, managers, planners and researchers.